James R. Larkin
Cancer Research UK and Medical Research Council Oxford Institute for Radiation Oncology, Department of Oncology, University of Oxford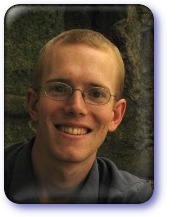 ---
My research covers the interface of diagnosis and characterisation of brain metastasis, spanning both pre-clinical models and patients
---
Biography
I obtained my undergraduate MBiochem from Trinity College, Oxford in 2004 and followed this with a period of working at both the Sanger Institute in Cambridge and the University of Essex. In 2007, I moved to Warwick to begin my PhD in Paul Thornalley's laboratory working on diabetic kidney complications. After completion, I moved to Oxford to work on early diagnosis of brain metastasis with Nicola Sibson in the Experimental Neuroimaging Group, part of the Department of Oncology.
Technical Expertise
I primarily work with pre-clinical MRI systems as well as NMR systems for biofluid analysis from patients. I have expertise with multivariate statistical analysis techniques such as PLS-DA and I am also adept at immunohistochemical staining and subsequent image analysis. In addition to this, I have a wide range of other technical expertise which I have listed, together with my computing expertise as it pertains to biological research, on a separate Technical Expertise page.
Currently held positions
Post-doctoral researcher, Department of Oncology, Oxford University

Lecturer in Biochemistry, Trinity College, Oxford University
Publications and Conferences
My publications and conferences page lists my complete bibliography as well as other awards, prizes and talks.
---
As well as details on my research, this site contains a general science section with useful scientific information for biological research such as freezing bath temperatures and centrifuge calculators.